United Enviro Systems, Inc., has been providing superior services to schools, from elementary through university levels, since 1982.
Our expertise in handling the small quantity, yet potentially dangerous wastes produced by your laboratories as well as the wastes generation by the day to day maintenance of your facility enable UES to provide one stop shopping for your chemical disposal needs. We are easy to contact. Call our office and you will always talk to a real person who will quickly and expertly answer your questions .
UES Inc.
takes the guesswork out of properly disposing of your waste materials. We will sort, inventory, pack , arrange disposal options, transport and document all waste from your site. We can set up a regular service interval and help keep you compliant with the maze of regulations that must be met.
United Enviro Systems Inc.
Where our Values are Valuable to you. We are large enough to handle all your needs and small enough to give you the personalized services your expecting and more.
Laboratory Services
Consolidation of Compatible Waste Materials Spent Solvents, Auto analyzer Wastes, Bulk Powders, Etc.
Lab pack services Spent Solvents, Auto analyzer Wastes, Bulk Powders, Etc.
Identifying Unknowns Testing of compounds for DOT and EPA charactieristic to enable proper transport and disposal.
Reactive Handling and Disposal Picric Acids, Ethers and others form explosive peroxides with age or improper storage. We can safely handle and deactivate the hazards to make your school safe.
Mercury Device Recycling Thermometers, Sphygmomanometers, Thermostats, etc.
Facility Maintenance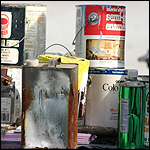 United Enviro Systems, Inc. has all the Industrial Service Capabilities your Department requires. Some of the services we can provide are:
Universal Waste. These regulations are changing quickly and include items like:

Batteries: Lead Acid, Alkaline, nickel Cadmium, Lithium, etc.
E-Waste: (Electronic equipment) Computer equipment: Monitors, CPUs, Printers, Fax Machines, Phone, etc.
Fluorescent Lights: and similar Mercury hazards: Mercury switches, Mercury vapor lamps.

Maintenance Materials Unused or spent chemicals must be disposed of according to Government Regulations some expamples: Oils, Paints, Aerosols, Boiler Treatment Chemicals, etc.
Emergency Response We are always on call to help with chemical emergencies at your site.
Insurance UES is fully insured for your protection

© Copyright 2006-2008 United Enviro Systems, Inc. All rights reserved.
Site Development:
JN Design